Description
Round Sai
Our Round Sai  is 21.5″. and made of steel. It has chrome plating with a bound handle for a good grip. This item is sold as a pair and is For training only, not to be used in full contact training.
The Round Sai consists of a relatively thin but strong metal baton, with a handle in addition to two prongs. The prongs can act as a shield, a hand guard that protects the hand area from incoming cuts and strikes.
How to hold your Round Sai
One way to hold it, is by gripping the handle with all of your fingers and pinching the thumb against the joint between the handle bar and the shaft.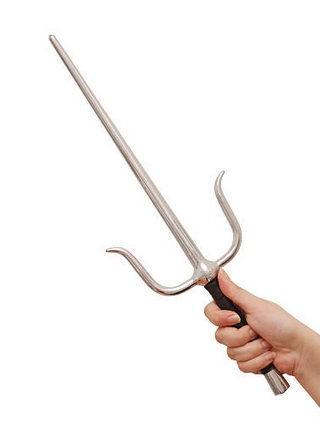 Add a Round Sai keyring to your cart today!
Sai Keyring
This item is a practice training aid only and must not be used for full contact training. Any damage incurred through misuse of this item is the sole responsibility of the customer and will invalidate its warranty and returns policy.